Disclaimer: Anniforscia, dear, don't read this post. Please.
No one should read this post with an intense fear of needles or IVs
. Thanks.
Dear Paramedic Student who shall go unnamed,
There are several things I keep in my IV bucket. Let me tell you about them. I keep a
latex
and
non-latex tourniquet
. I keep a whole bunch of
Vacutainer tubes
to put the blood in. I keep
gauze
,
alcohol swabs
,
saline locks
,
syringes
,
tape
, and
Tegaderm site dressings
. I even keep a whole ton of
saline flushes
. There's a lot in there, I know.
But here's the important part. I carry two types of needles. One type of needle is for IVs. It's called an angiocath. It comes in gauges 14-24 for the IVs I use. It has a plastic catheter over the needle, and that part stays in the patient. Easy, right?
I also carry hypodermic needles that go on the END OF SYRINGES so that after I get the blood in the syringe, I can distribute it evenly into the vaccutainers. I only carry one size--18 gauge.
I keep them in SEPARATE parts of the IV bucket. You KNOW this. But yet, every single time I've started an IV, you hand me a regular needle when I need an IV needle. I've told you time and time again which is which, and even wasted supplies by opening countless needles to
show
you the difference. Let me see if I can clarify more.
This is an ANGIOCATH.
This is a HYPODERMIC SYRINGE NEEDLE.
Get it? No?
Angiocath...
Hypodermic needle for a syringe...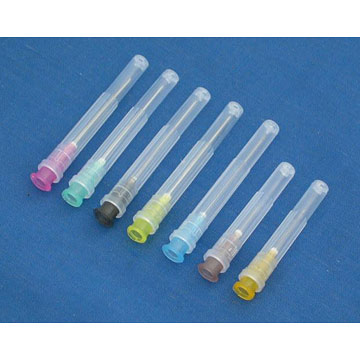 They do very different things. Please learn which is which before continuing in your paramedical education.
Sincerely,
Sam
p.s.--This rant brought to you by Sam's raging impatience with students who don't learn. I'm not being unfair, I've told him roughly fifteen times. I don't mind correcting him, but I do fear for his patients, when he sticks them, and then realizes that he's using a hypodermic needle, not an IV needle.